Michael Arnowitt, pianist – official website
Announcing New Classical Piano Programs for 2023 & 2024 – Michael Arnowitt has just finished creating his new program offerings, including Kaleidoscope, Crossroads, Musical Landscapes, and more. Check out his descriptions of all the great piano music he'll be performing over the next two years.
Great news! Michael Arnowitt is writing a book of essays about music, to be published by Fomite Press. In these essays Michael will be offering insights about moments in his favorite pieces of piano and orchestral music along with anecdotes from his travels as a touring concert pianist. Stay tuned for updates on the progress of this exciting once-in-a-lifetime project.
Michael Arnowitt has been commissioned by the Toronto Chamber Choir to compose a new piece for chorus and piano, "Liffey Dreams." The TCC is a highly respected ensemble founded in 1968 and currently directed by the wonderful lutenist Lucas Harris. Text for Michael's new composition is drawn from the final pages of James Joyce's novel Finnegans Wake. The Toronto Chamber Choir will give the premiere performance of Liffey Dreams with Michael Arnowitt at the piano on Sunday, May 7 at 3:30 pm at the Calvin Presbyterian Church in Toronto.
Documentary film "Beyond 88 Keys" about the life and music of Michael Arnowitt now available online on Vimeo for the first time
New YouTube channel launched! Please help support Michael's first-ever venture into the music streaming world by going to Michael Arnowitt Music, click on Subscribe, and like the music selections posted there. Over time, the channel will feature livestream concerts, selections from Michael's recordings and past live performances, interviews, and video explainers at the piano of moments in some of his favorite pieces. Through your chat, comments, and questions this will be a great place to interact with Michael's musical activities.
Welcome from Michael Arnowitt
This is the official web-site for news and information about my music performance activities as a classical and jazz pianist. I began this site in 1997, and you'll find here excerpts from my piano recordings, various writings about music I've done over the years, and naturally all the latest details about my upcoming performances and creative projects. Thanks for visiting my web-site – I appreciate your interest in my music.
Navigating this site
Select a category from the four lines of links in the header at the top of any page. Probably the most common links are: to hear some of my piano playing, click on sound samples; to contact me or my representatives Glenda Fordham or Chara Tan, click on contact; to know where I will be performing, click on calendar; to learn generally about my life as a musician, click on biography; and to read about my most current concert program offerings, click on performance programs. If you can't find what you're looking for directly from the banner, give us a phone call or send an e-mail, and we'll be happy to help.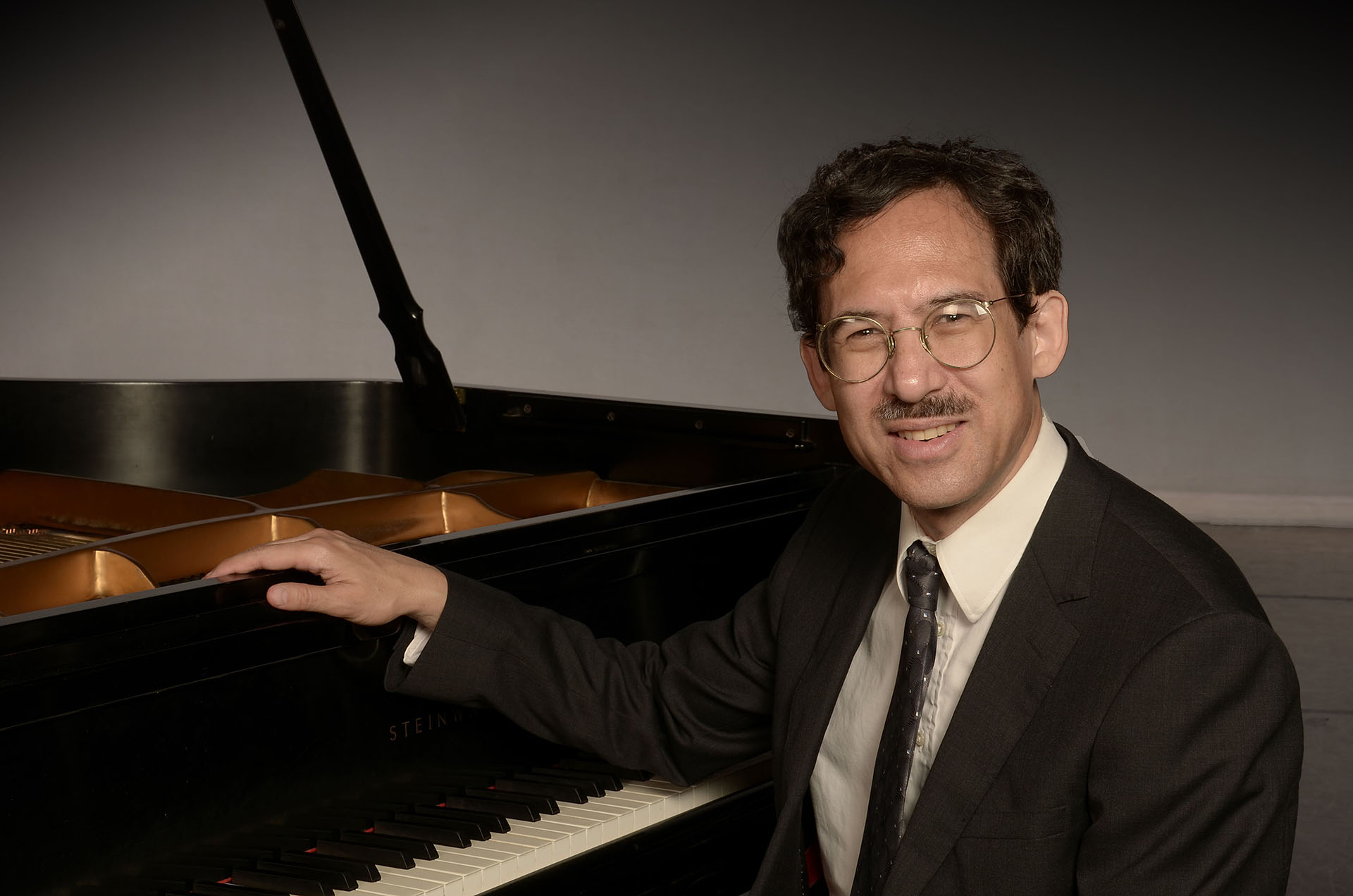 On this page: quick links
Greetings (recommended for first-time visitors to this site)
Social media links (Facebook, Mastodon, YouTube, Patreon) and joining my mailing list
New web-pages and updates
Testimonial of Louis Moyse
The Latest – What's New (news about my musical activities)
Recordings and other merchandise
Would you like to help?
About my personal (non-music) interests

You can browse this particular page by simply scrolling down its contents, or, you can skip down it faster using one of the above quick links. After reading the particular portion you jumped to, you should be able to return to this point on the page by clicking on Back to Quick Links.
Greetings – introduction to the site
Welcome to my web-site! The main portion of this site is devoted to a description of my activities as a pianist. I perform widely as a classical concert pianist, and I also play jazz piano engagements, both in concerts and in informal settings. I live part-time in Vermont in the United States and part-time in Toronto in Canada.
You can also find here various essays and articles I have written over the years on music topics; I hope you will find these pieces thought-provoking. I also post on my Facebook feed essays and other thoughts about the music I'm currently practicing or listening to, so be sure to connect with me there if you're interested to read what I'm thinking about music in real time.
In these posts, I recount interesting and humorous stories from the concert trail, offer insights on composers and their music, and comment on aspects of piano playing. I hope these writings will give readers an enjoyable behind-the-scenes, "fly on the wall" view of my daily life as a concert pianist. Links to my social media pages are in the next section below.
For those of you connected with music presenters, the site has a nice array of materials about my career, including a biography, reviews and testimonials, photos of myself at the piano, samples of my recordings, and descriptions of my current concert programs.

Back to Quick Links
Social media links and joining my mailing list
Connect with Michael on social media – future plans include using social media for pre- and post-concert chats with the public, interviews, and more online piano concerts broadcast from his home Steinway to follow up on the success of his 2021 YouTube concert.

Facebook page of Michael Arnowitt
YouTube channel Michael Arnowitt Music
My new Mastodon page @classicalmusic.social@MAPiano
Patreon.com page – new platform where my music supporters can donate small amounts to me on a regular basis to give my creative projects a general vote of confidence and financial assistance. In exchange, you'll receive some Patreon-only benefits such as recordings of some of my past live performances and more.

If you would like to stay in touch with me, we encourage you to join our mailing list. Click on the "mailing list sign-up" link in the header of any page, follow the instructions there, and you will receive the occasional flyer or e-mail about live performances near where you live, or new recordings as they are released. Thanks!

Back to Quick Links
New web-pages and updates of current pages
New Classical Piano Programs for 2022 & 2023 announced, with full piece listings and program descriptions
Calendar of engagements (updated October 16, 2023)
Current biography of Michael Arnowitt (updated March 2022)
Contact Information (updated October 16, 2023)
Reviews and testimonials page (updated April 2022)
Review in the Washington Post of Michael's special concert "1913" at the National Gallery of Art
Michael's fall 2021 concert tour of New Hampshire, Maine, Vermont, and Massachusetts featuring music by Bach, Brahms, Ligeti, and Ginastera. Tour dates – Program description
Latest recording release Sweet Spontaneous, a 2 CD set of 14 Michael Arnowitt jazz compositions, on Parma Recordings' Big Round Records label – Sweet Spontaneous album webpage
Michael was recently interviewed on the Jazz.FM 91 radio station in Toronto where he spoke about 7 tracks on the recording.
Description of An Evening of International Poetry and Jazz – innovative program of jazz with poetry in English, French, Spanish, and Arabic with Therisa Rogers, spoken word
Syrian Refugees Benefit Concerts Organized by Michael Arnowitt, a special program of Syrian sacred and secular music, poetry, short stories, and drama, May 21-22, 2016, which raise $12,500 for humanitarian aid for Syrian refugees
Photos from the benefit concerts
Beethoven & Arnowitt VIII program of Beethoven's last three piano sonatas – program description, Michael's thoughts, and audience appreciation
Description of lecture-performance Stravinsky's The Rite of Spring and the Music of 1911
Description of talk The Music of Poetry
Description of lecture-performance The Life and Music of George Gershwin
Description of lecture-performance From East to West
"If Music Be the Food of Love..." (a multi-sensory event combining music and food)

Back to Quick Links
Testimonial of Louis Moyse
(internationally-renowned flutist and composer – this statement written when Moyse was in his 90's)

"During my long musical career, I have met few really great artists in the various disciplines of the field and I am very pleased to name Michael Arnowitt, pianist and musician as one of them.

"Michael combines all the necessary qualifications and qualities to express his art on the highest level. I have great respect for his technical skill, his interpretation and his way to communicate to any audience his feelings through his love for music."

Back to Quick Links
The Latest – What's New
What's New – written April 2022
about binge listening, finishing learning the complete Bach partitas, choosing pieces for new programs, receiving piano music by the Ukrainian composer Victoria Poleva, a New Year's resolution, and jazz à la Bach
For the last two to three months I have been immersing myself listening to music, especially music written from after World War II to the present. I had realized that there was a large amount of music composed in the last 75 years that I had never gotten around to listening to in much depth, so I decided to take the "opportunity" afforded (or you might say forced) on me by the pandemic's closing down of most live performances to do some major listening catch-up. Binge-listening is certainly a different experience than in the old days when you heard stories of music enthusiasts going to a Tower Records megastore and blowing their entire paycheck on buying music. In my past, I would make trips to university music libraries to their record listening stations to hear what they happened to have in their collections, supplemented with my buying some piano music books and CDs, all of which was a fairly hit or miss affair. One difference I noticed on this latest round of research was that I was much more easily able to listen online to the music of many composers I was considering, often being able to find recordings of the specific pieces I was thinking about learning for future performance. The world of recordings is a vaster place than I had known, and I was surprised to find out that there exists piano rolls you can hear of Mahler and Debussy playing their music on the piano, recordings that date from the first decade of the 20th century; I have to admit that I had mentally wrongly placed Mahler and Debussy before the era of recording.
Beyond simply listening to music recordings, another nice aspect of my researching experience the past few months was that I was able to check out many articles and commentaries on the music of even some fairly unknown and unrecognized composers, and, since most of these musicians were active within my lifetime, I was occasionally able to find posted online interviews of the composers themselves, which was of course very helpful and interesting. Imagine if you could see J.S. Bach interviewed on German TV in advance of the premiere of his new keyboard concerto with the Berlin Philharmonic? OK, that's admittedly a strange thought, but you get the idea. Being a pianist I focused mainly on looking for some new solo piano repertoire, but I also enjoyed listening to some orchestral and chamber music along the way. I really hadn't done that much pure listening in years, and it has been a great invigorating energy recharge for me. (More about this feeling at the end of this update.)
The end result of all this researching was, as you might expect, that I found more piano pieces that I would like to put on concert programs than I can realistically learn and memorize over the next year or so. One new development was that I discovered for the first time a number of British composers whose music I found really appealing. For whatever reason, the major British composers of the past I've never connected with (except for William Byrd), but I'm finding there's a lot of quality music from that part of the world in these more recent decades from the post-war period to the present. I'm starting to learn George Benjamin's excellent Piano Figures, which contain enchanting, highly creative depictions of knots, hammers, a mosaic, and more. Yes, hammers, I'm not kidding! The musical concepts in these pieces are carried out with a wonderful, imaginative touch, even when he's portraying the humble act of hammering nails. I also have the music now to two more pieces of his I really like – Meditation on Haydn's Name, and Sortilèges – while they didn't make the shortlist of what I plan to perform in 2022 and 2023, I'm pretty sure I'll be learning these other pieces of his in future years. Another British composer I think very highly of is Elisabeth Lutyens. I've been interested in trying to learn one of her pieces for a few years now but was having difficulty tracking down publications of her compositions. Finally, this year the distribution system seems to have improved and through some European websites I was able to acquire some of her piano pieces. I decided to start off by trying to learn her La natura dell'Acqua, which translates in English to The Nature of Water, a piece she wrote in the early 1980's near the end of her life. The music is very sensitively written for the piano, and its dark sensuous low rumblings, gentle rippling motions, and beautiful use of silences, is I think a perfect fit for a piece about the fascinating fluidity of water. Two other British composers whose music also caught my ear are Julian Anderson and Thomas Ades, and I hope to work on some of their pieces in the not-too-distant future; I particularly like Ades' Traced Overhead and Three Mazurkas (I can imagine it could be nice to program some Chopin mazurkas on one half of a program and Ades' mazurkas on the other half). So that makes four different British composers I will be bringing into my repertoire for the first time.
For a while now I've been increasingly fascinated by the music of the present-day Ukrainian composer Victoria Poleva. This Kiev-based composer writes music I find completely absorbing, music that is simple yet powerful, expressive, and deeply spiritual. Unfortunately, as her piano music seems to be unpublished, I was having no luck tracking down her music despite looking in different libraries, trying a few internet services, and attempting to communicate with her representative. After over a year of these sorts of efforts not bearing any fruit, quite unexpectedly one day recently Victoria Poleva sent me ten of her piano compositions – considerably more than the few titles I had seen references to that I had requested. Such a wonderful act of generosity by her to send me so many of her compositions. By coincidence I received the music from her just two weeks before Russia invaded Ukraine. Of course, I truly hope she is staying safe during this horrible period for her country.
I have decided to start by learning some pieces from her collection Marginalia (1998-2008), including Lacrimosa and the intriguingly titled Music that is not yet, her 2019 composition Ischia Island, and her one-movement Sonata no. 2 "quasi una fantasia" (2011), which is a dramatic, moving work of great emotional depth. The official title of Beethoven's "Moonlight" Sonata is also "Sonata quasi una fantasia" – most likely one should not read too much into the title connection, although there are some intense, Beethovenian moments in this substantial work. I am just starting to learn the opening of the sonata and am noticing some similarities in the harmonies, bass line motion, and texture to Bach's Chaconne for solo violin. Of course, this is just a fleeting thought in my mind but I do find resonances of the concentrated energy and power of the Bach in this Poleva composition, and I'm really looking forward to digging in and learning the sonata and her other pieces over the next few months.
Starting with my fall concert programs, I'll be beginning to perform these Victoria Poleva pieces for the public and I hope to raise awareness in Canada and the United States of the music of this outstanding composer. In my mind, I've been thinking it would be fantastic to do a concert entirely of her music in Toronto, perhaps some combination of her piano, vocal, chamber music, and orchestral pieces, and find the funding to bring her to Canada to be the guest of honor.
Another composer I have never performed before is Elliott Carter, and I'm really pleased to announce that I will be learning for future performance his exciting 2006 composition Caténaires (Cables). In this piece, there is no harmony or counterpoint: rather, all you hear is a whirlwind of super-fast notes creating a single line that flies through the different regions of the piano in quicksilver fashion, occasionally interrupted by repeated notes in the middle of the keyboard. This piece was composed by Carter at the astounding age of 98 years old – he lived until age 103, composing to the very end. A number of musicians, including myself, are finding we're liking best the music Carter composed in his 90's and older in these final years of his life. Another piece by Carter from his late period I would love to learn and perform is his 2003 Dialogues for piano and chamber orchestra. Not too likely I can find an orchestra willing to take this on, but it's to my ear truly an artistic, beautifully crafted and dynamic work, although admittedly one that would because of its difficulty level keep me off the streets for several months to learn and get under my fingers.
Also in my plans for future concert programming include re-learning four of Dennis Bathory-Kitsz's Landscape Preludes. I originally learned and performed some of these wonderful preludes back in 2002. The music is based on Vermont autumn outdoor photographs taken by the composer, who innovatively transformed the design, color, and density change information of the photos from visual content to musical notes which he applied to folk-like modal scales of his own making. In recent years I have been hesitant to program many pieces of contemporary music now that my blindness is total, assuming that it would be just too difficult to memorize this sort of music. However, one of my New Year's resolutions was that I should not just assume I can't memorize a particular composition but that I should push myself to at least give these excellent pieces of new music a try. If I fail, I fail, but as the hockey great Wayne Gretzky famously said, "you miss 100 percent of the shots you don't take." Last year I was encouraged that I was able to memorize a number of Ligeti's études I performed on my fall tour, and I was also able to memorize another Ligeti étude last month, so while I make no promises, I am hoping for the best.
Of course, during my listening binge I found a number of older pieces from the standard repertory that I've also decided to learn this year, including three fantastic Debussy études (nos. 3, 6, and 11). I knew he had composed these pieces near the end of his life but had not realized until recently that his last years were affected by ill health from cancer. Apparently during this final period there was a time where his health had temporarily recovered a bit, enabling him to, as he said, "compose like a madman" a collection of 12 piano études along with some sonatas and chamber music. Debussy wrote Fauré a year before he died apologizing for having to back out of plans for him to perform the études in public due to health reasons (Debussy was himself a very good pianist). I recently bought a book of Debussy's letters at Ben Koenig's excellent Country Bookshop in Plainfield, Vermont and they are an absolute pleasure to read. I have always wanted to learn and perform more of these études and can heartily recommend on YouTube a 1989 performance of the complete set of 12 by Mitsuko Uchida which motivated me to take the plunge: her performances are fantastic and the way she shaped the progression of sections of no. 3 "For the fourths" and its surprisingly Beethoven-like thunder at moments definitely inspired me to decide to learn the piece.
Filling out the list of pieces I am learning this year is a fun piece by Lutoslawski, some great works from Schoenberg&rsquos expressionist period drawn from op. 11, 19, and 23, and I will be adding to my repertoire of pieces by Arthur Lourié, a composer whose music has fascinated me in recent years. Lourié was an extremely creative composer active in his native Russia in the 1910's and in Paris in the 1920's and 1930's. I think he has been well described as one of the most interesting forgotten composers of the 20th century, and I've been over the last five years been among a growing number of performers of today bringing Lourié's captivating music to audiences. I recently learned and performed in Toronto his 1928 Intermezzo which I think is one of his best piano pieces. Unusually for a composer, each of his pieces is a little different from each other, so I feel I'm just at the tip of the iceberg exploring the artistry of this composer whose music deserves to be better known.
I have structured all this music that I have decided to learn into a number of new concert programs that I call Kaleidoscope, Crossroads, and Musical Landscapes and if you'd like to read more about these pieces and programs please click here on this new webpage I just created to announce my new program offerings.
Am I saving the best for last? One other composer who will also be on my piano music rack this year will be J.S. Bach. Throughout my life I have gradually been learning his six partitas. I studied no. 1 as a teenager with my beloved first piano teacher A. Ramon Rivera and as an adult added nos. 2, 3, and 5 to various concert programs I have done through the decades of my career, but still I had never learned no. 4 or no. 6. Finally in 2021 I learned and performed no. 6 in E minor, which was an amazing experience, and I'm happy to report that I have at last completed the cycle, as earlier this month I performed no. 4 in D major, which I am finding is actually one audiences are a little more familiar with compared to some of the others. Now that I have learned all six, I am hoping to find at least a couple of Bach-loving concert series where I might be able to perform the complete set of all the partitas prior to doing a commercial recording which would most likely not take place until the summer of 2023. To play all six partitas in a single concert is a bit of a stretch I'll admit as I believe they time out to about a little under two and a half hours in total duration. But maybe for an audience of Bach fanatics this might be OK, or else the music could be divided into two concerts. In other Bach news, I have chosen three movements of his Art of the Fugue to learn; this will be the first time in my life I have played any music from this wonderful collection of pieces Bach composed at the end of his life when he himself experienced blindness, so there's a connection there. I've picked out my three favorites and really look forward to immersing myself in these fugues which many say have a different tone and makeup compared to the more famous ones in the prelude and fugues of the Well-Tempered Clavier.
Last year one of my assistants, who is a university graduate music student, was commenting to me about how difficult he found writing fugues to be for a class assignment. This made me wonder how hard it would be for me to try to write a fugue myself – after all, I have been playing Bach all my life and have certainly in the course of learning many Bach fugues for performance studied them in great detail, so how difficult could it really be? Well, I'm here to tell you writing a fugue in the style of Bach is very difficult indeed, even for someone with my experience. Making 3 or 4-voice counterpoint all work out so each line has direction, makes sense and is not awkward-sounding yet still creates perfect harmony all the while is a true challenge. What I ended up deciding to do is compose a jazz fugue, meaning a piece that would blend the ideas of bebop jazz with Bach's ideas of fugue writing. I have made very good progress on a jazz tune where the only material I'm borrowing is most of the notes from the first two measures of Bud Powell's Crazeology, but the rest of the fugue subject and all the subsequent material is fully original. There are different episodes, some in the style of Bach but others settling into jazz grooves for improvisation and I think when it's finished it will all go over very well. Recently, I also noticed doing some playing around on the piano that the final Gigue movement of Bach's Partita no. 4 also could get the Bach/jazz fugue treatment so I have begun to compose an arrangement along those lines that I also think people will like.
Let me bring this update full circle to where I began, with the joy of listening. I recently read in Jan Swafford's introduction to his biography of Brahms an account of how the author first fell in love with music during childhood after being at a concert where Leonard Bernstein conducted Brahms' First Symphony. I too have strong memories of the earliest years of my own life with music. I began taking piano lessons at age 5, but the crucial years were from around age 12 to 17, when I soaked in an enormous amount of music, playing certain recordings over and over again after school and whenever I had free time, and constantly begging my mother to buy more recordings whenever we were near a good record store. Hearing all these sounds I had not heard before was thrilling, opening so many new doors for me. Once your teenage years are past and you become an adult, though, I believe most musicians have an experience similar to my own, that is, we no longer take the time to keep listening to new music, whether live or recorded, like we did when we first fell in love with music earlier in our life. This change happens rather unconsciously, without our noticing. Job and family responsibilities are probably the main reason, but in general I suspect for many their energy and drive simply slackens off with age. Jorge luis Borges said that although people call him a writer, the activity he has done by far the most of in his life is being a reader. I don't believe the same is true for musicians. They listen to a little music, certainly, but far less than I believe writers read. These last few months have been a beautiful experience as I have recaptured the feelings from my youth of how much incredible music there is out there still to be listened to for the first time, and how many doors can still be opened.
Spring 2015
about playing Beethoven's last three piano sonatas, a bird encounter, a tour of Korea, new jazz tunes, and a musical trip to the West Side
Spring 2012
about playing Mozart's Concerto no. 25, thinking about the crowd noise music in Stravinsky's Petrouchka, discovering the early 20th century composer Arthur Lourié, an all-Bach concert, writing some jazz lyrics, and preparing for a big celebration for a round-numbered birthday of mine
Fall 2009
musings on playing Mozart's Piano Concerto no. 23 in A, K. 488, understanding two pieces by Olivier Messiaen through listening to the song of the wood-thrush here where I live in Vermont and considering how things grow in Nature, the premiere of a new collaboration improvising on the piano simultaneous with the creation live on stage of visual art, and some thoughts about the similarities between painting and music, and why perfect fifths have become my favorite interval these days
2008
a chronicle of a tour I made to Europe with a jazz quartet, a story from a past tour of Russia, a little bit about getting to play with Pete Seeger, and some thoughts on my experience being the subject of a documentary film

Back to Quick Links
Recordings and other merchandise
Many of my recordings are available through Ursa Minor Records, P.O. Box 94, Montpelier VT 05601. My CDs can be mail-ordered through Ursa Minor, as well as T-shirts with the cover art of my album Sweet Spontaneous (featuring original art by Maggie Neale), or a DVD of the documentary film about my life and music, Beyond 88 Keys. To keep things simple the charges are $15 plus $3 shipping and handling per item, whether you are ordering a CD, T-shirt, or DVD. The documentary film can alternatively be streamed online as a rental or purchase by clicking here.
My book of essays about music is currently in the process of being written and will be published by Fomite Press, a wonderful independent literary press who has been publishing novels but is introducing a second line of essays books. Connect with me to keep in touch to hear when the book is released and out into the world.

Back to Quick Links
Would you like to help?
If you have an idea for where I might be able to perform a classical concert or play a jazz engagement, please let us know. In addition to the obvious places where performances happen, such as concert series, festivals, schools of various sorts, and nightspots, I have also performed in places such as libraries, museums and art galleries, churches and synagogues, theaters, and town halls. Please let us know of any leads for where I might perform, especially if you know anyone connected to the organization and can put in a good word on my behalf to help get the ball rolling.
Also helpful are friends you might have in Canada, Europe, or eastern Asia as I organize tours to those areas from time to time. Even if the person you know there isn't directly involved with a concert organization, any person who lives in a region I may be touring to could be potentially helpful in providing information or leading us to someone who is more directly involved with the music scene in that locality. Hospitality and logistical help is also always appreciated when touring in a foreign country.
I am occasionally in need of a travel assistant for my tours, so if that would be of interest to you, please contact us and let me know what financial arrangements you would or would not require.
Also, if you have a suggestion as to where the documentary film about me "Beyond 88 Keys" might be shown, we're trying to get more screenings and broadcasts of the film. There seems to be good interest from arts groups in showing the film, optionally in conjunction with some sort of live piano performance or question and answer period with me after the film is viewed.
The filmmakers have made an attractive brochure oriented towards organizations that might consider showing the film. If you have a connection to an arts organization, theater, school, library, or film festival that you think might be interested in hosting a film screening, let me know and I'll send you one of these brochures and a DVD copy of the documentary.

Back to Quick Links
About my personal (non-music) interests
Some of my personal interests:
- international vegetarian food, particularly Asian
- hiking, especially in river and forest areas
- peace and human rights activism
- issues having to do with the blind and visually impaired
- cultural pluralism
- poetry (my favorites are Anna Akhmatova, Rainer Maria Rilke, E.E. Cummings, Adonis, and Shakespeare if I get to count his plays as poetry
- early 20th century history
- once upon a time I played a lot of bridge (the card game)

My favorite quotations

Your feedback about this site is valued. Unlike live performance, the internet is a medium where it can be hard to know how things are going over. So, we welcome your reactions – let us know what you particularly like on this site, or any suggestions you may have for improvements. Go to the "contact" link at the top of any page to find our contact information and phone, regular mail, or e-mail us as you prefer.
---
file

Last updated: October 16, 2023 © 1997-2023 by Michael Arnowitt