Jazz and other Improvisational Music Performance Programs
Michael Arnowitt, piano – Michael's Jazz bio


Table of Contents for this page
The Five Chinese Elements
A Trip Through The Four Seasons
The World of Bill Evans
Exploring Jazz And Classical Music, with Fred Haas, saxophone
Transcription Project #1: Ella Fitzgerald Night
Transcription Project #2: Tribute to Art Blakey and the Jazz Messengers
Sample Non-Thematic Combo Program
Improvisation with the Spoken Word #1: Langston Hughes
Improvisation with the Spoken Word #2: Sylvia Plath
Improvisation with the Spoken Word #3: Live with David Budbill, poet

Link to Jazz Biography of Michael Arnowitt

Link to Jazz Tunelist of Michael Arnowitt: my favorite tunes
Link to Descriptions of my original jazz tunes


Michael Arnowitt performs jazz under his own name, or sometimes under names such as the ImproVisions Jazz Quartet or the Take One Trio.




The Five Chinese Elements

an original jazz suite

The Five Chinese Elements is a suite for jazz trio composed by Michael Arnowitt and Anthony Santor on the theme of the five Chinese elements: earth, water, wood, metal, and fire. The earliest written material about the five Chinese elements dates from the third century B.C., although the traditions no doubt date from an even earlier time. The ancient Chinese believed that each of the five elements had a particular color, sense, flavor, cardinal direction, time of year, type of weather, and animal associated with it. The performance of this new composition, in a free-jazz spirit, is inspired by these traditional Chinese associations from thousands of years ago in combination with the trio's own personal feelings in the present for each of these five natural elements.

This suite is a full-concert length composition of approximately one and a half hours. Premiered in March of 2004, The Five Chinese Elements is performed by Michael Arnowitt on piano, Anthony Santor on upright bass, and Steve Wienert on drums and a colorful variety of percussion instruments. Many of the innovative melodies and harmonies in the suite stem from new "hybrid scales" developed by Michael Arnowitt. The performance also features non-standard instrumental techniques such as the bass tapping and stroking the wood of the instrument, or the piano striking a chord and then fluttering the pedal quickly up and down to create a sound reminiscent of radiating waves in a pond.

Some shop talk: more detail about the music
The musical material specified in the printed pages of the composition varies greatly from traditional classical music scores or even standard jazz lead sheets. In some sections, new hybrid scales created by Michael Arnowitt are used by the performers as collections of notes from which melodic lines and specific harmony chords are drawn for improvisation. These hybrid scales were devised by taking the bottom half (usually four notes) of a certain scale, optionally altering a single note of the four slightly, and then combining this lower half with the top half of another scale. The scales chosen for the component parts range in origin from ancient Greek and medieval modes to scales from 20th century classical and jazz music, as well as some that are completely original.

Other sections of the suite are based on elements of music such as an emphasis on a particular shape of line (for example ascending, descending, circular), rhythmic riffs, a general outline of harmonic tonal centers, or a sequence of textures or unusual instrumental techniques. Listeners may hear references to jazz form ideas, such as call-and-response, vamps, standard swing form, and spirituals, although the emphasis of the evening is on creating more free-flowing music, uninhibited by the traditional forms of jazz history. The Five Chinese Elements presents more fluid structures that develop much as water or wood do in nature.
This program is best offered as a jazz trio concert, but Michael Arnowitt has performed excerpts from the suite by himself piano solo in Düsseldorf, Germany; Delft, the Netherlands; Moscow, Russia; and at the 29th Prague International Jazz Festival, as well as in Colorado and Vermont in the United States. It is also possible he could perform the Suite as a visiting artist in collaboration with appropriate local musicians if that is preferred (exact performing instrumentation can also be flexible).

roadmap to the Suite on the Five Chinese Elements

Earth
Water - Part 1
Water - Part 2
Earth - call-back
(pause)
Wood
(pause)
Fire
Earth - call-back
(pause)
Metal
starting from three different spatial locations
ends with The Tiger
(pause)
The Aquifer (Water in Earth)
Spiritual
Earth - final call-back






A Trip Through The Four Seasons

Michael Arnowitt guides us on a voyage through the calendar year, starting with jazz tunes about spring, proceeding through compositions about summer, autumn, and winter, and completing the circle by ending the program where it began, with music about spring.

A variety of jazz tunes refer to the seasons, even personifying them as if Spring, Summer, Autumn, and Winter were living, animate actors touching us directly and granting us joy or sorrow. For many jazz writers, the progression of the seasons is also a metaphor for the course of a love relationship, and several of the tunes on this program creatively refer to more than one season, calling forth a strong sentiment of reminiscence and longing.

Many composers have thoughtfully gone beyond the stereotypes we have of each season. Spring is a time of optimism and joy, but it can also be a time of mystery as we witness the magic of the annual blossoming of life. Summertime is not just beaches and fun, but can also be the loneliest time of the year. The bitter-sweet autumn seems to universally cause us to both reflect back upon the spring gone by and at the same time fear the hard winter to come. Winter is perhaps the most picturesque time of year, a time when Nature rules: some humans solemnly observe this power, others go out sledding and live it up.

Program will be drawn from the following repertoire --

Spring tunes
I'll Remember April (Gene DePaul)
Spring Is Here (Richard Rodgers)
Spring Can Really Hang You Up The Most (Thomas Wolf)
His April Touch - based on a poem by e.e. cummings (Billy Childs)
May Dance (Dave Holland)
Joy Spring (Clifford Brown)
Adoration of the Earth (Igor Stravinsky/Michael Arnowitt)
You Must Believe In Spring (Michel Legrand)

Summer tunes
Memphis in June (Hoagy Carmichael)
Summertime (George Gershwin)
Summer In Central Park (Horace Silver)
The Summer Knows (Michel Legrand)
Summer Samba (Marcos Valle)

Autumn tunes
Fall's Alive (Fred Haas)
Autumn Nocturne (Josef Myrow)
Autumn Leaves (Joseph Kosma)
Autumn In New York (Vernon Duke)
Early Autumn (Ralph Burns - Woody Herman)

Winter tunes
Snowy Mountain Blues (James P. Johnson)
Where Were You (Stevie Wonder)
Winter Moon (Hoagy Carmichael)
I've Got My Love To Keep Me Warm (Irving Berlin)




The World of Bill Evans

One of the most beloved jazz pianists of all time, Bill Evans' style featured beautiful harmonies, lyrical and romantic melodies, and lively rhythmic innovations. Pianist Michael Arnowitt and tenor saxophonist John McKenna lead a quartet in a concert profiling the life and music of Bill Evans (1929-1980), offering a mix of Evans' own original tunes and those by other composers that were Evans was famous for playing through the years.

The tunes on the program were originally recorded on historic discs such as "New Jazz Conceptions" and "Portrait In Jazz" from the 1950's, "Waltz for Debby" (Live at the Vanguard, 1961), "At the Montreux Jazz Festival" (1968), "The Tony Bennett/Bill Evans Album" (1975), "The Paris Concert" (1979), and "Live at the Village Vanguard" (June 1980), the last recorded just three months before Evans' untimely death.

Bill Evans first received notice for his crucial role in helping to shape the sound of Miles Davis' combos of the late 1950's. Evans' playing with Miles on albums such as "Kind Of Blue" (the best-selling jazz recording in history by a large margin) led Davis to comment: "I've sure learned a lot from Bill Evans. He plays the piano the way it should be played." Miles' admiration for the new sounds Evans was creating on the piano was shared by the entire jazz world, and Bill Evans is largely credited with establishing the modern style of jazz piano playing with lighter, more open harmonies that blended better with the growing role of the upright bass in jazz.

After working with Miles, Evans travelled widely as the leader, over 20 years, of three major trios of piano, bass, and drums. He was popular with both musicians at the highest level as well as with lay listeners from around the world. His first trio was with the great bassist Scott LaFaro, who tragically died in an accident in his early 20's. Evans went on to form a long-standing trio with the bassist Eddie Gomez, and at the end of Evans' life, with bassist Marc Johnson. His trios were considered ground-breaking in the degree of interplay between the three instruments.

The program features Bill Evans' two most popular originals, both written when Evans was quite young: "Waltz for Debby" (composed for a four-year old relative) and "Very Early." Also on the program from Evans' period with his first trio with LaFaro are "Peri's Scope" and the jazz standard "Autumn Leaves."

From Evans' middle period with Eddie Gomez the program contains Miles Davis' "Nardis," one of Evans' favorite tunes throughout his life, and Ray Noble's jazz standard "The Touch Of Your Lips," which Evans recorded both solo piano and with the vocalist Tony Bennett. From Evans' final trio with Marc Johnson the concert includes versions of "Bill's Hit Tune," "Laurie," and "34 Skidoo," recorded in famous live performances in Paris and at the Village Vanguard in New York City.

Personnel:
Michael Arnowitt, piano
John McKenna, tenor saxophone
Sam Davis, bass
Steve Wienert, drums
(this program can also be done without saxophone as a trio concert)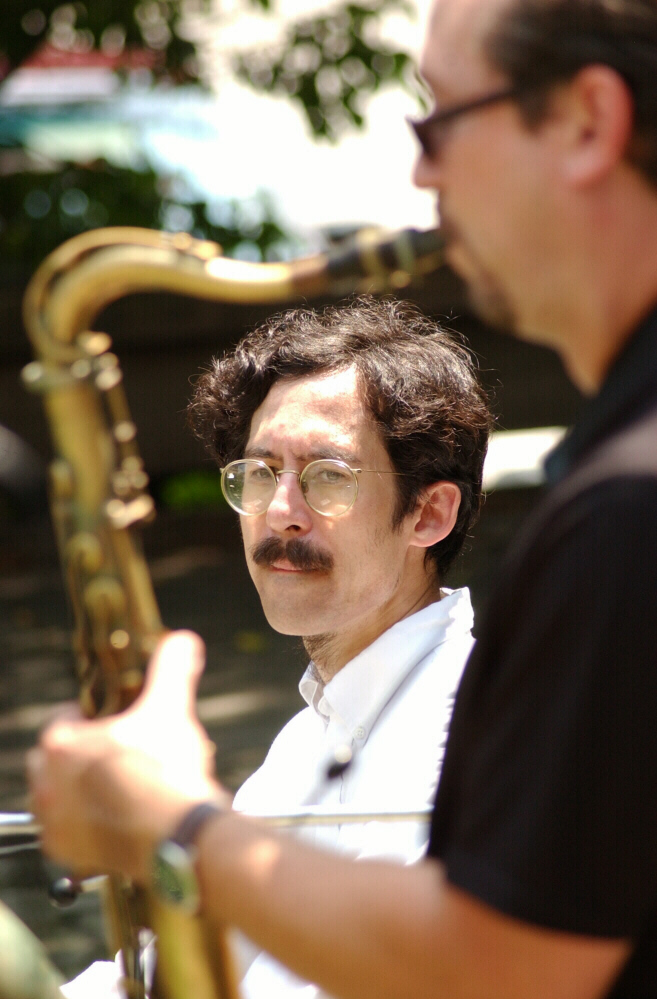 Pictured above: Michael Arnowitt and John McKenna in action
at an outdoor concert. Photo courtesy Jeb Wallace-Brodeur.

Tenor saxophonist John McKenna has toured the U.S. and Europe with Joe Lovano in his Celebrating Sinatra Band, performed with organist and pianist Larry Goldings (recording on Goldings' Warner Bros. CD Big Stuff), and performed in concert with the Red Rodney Quintet in California and the Ron Horton Quintet at the Museum of Modern Art in New York City. John McKenna was a faculty member of the nationally-known Stanford Jazz Workshop from 1990 to 2000. He has two recordings out as a leader, The Solar Side (with Larry Goldings, Larry Grenadier, and Victor Lewis), and Apparition.
The program of "The World of Bill Evans" will be drawn from the following repertoire:
| | |
| --- | --- |
| Bill Evans originals | Tunes by other composers Bill Evans favored |
| | |
| Peri's Scope | The Touch Of Your Lips (Ray Noble) |
| Waltz for Debby | My Foolish Heart (Victor Young) |
| Bill's Hit Tune | Nardis (Miles Davis) |
| Very Early | Autumn Leaves (Joseph Kosma) |
| Laurie | I Do It For Your Love (Paul Simon) |
| 34 Skidoo | Come Rain Or Come Shine (Harold Arlen) |
| Displacement | I Loves You Porgy (George Gershwin) |
| Turn Out The Stars | How My Heart Sings (Earl Zindars) |
| Time Remembered | Detour Ahead (Frigo-Carter-Ellis) |
| Walkin' Up | When In Rome (Cy Coleman) |
| | Young and Foolish (Albert Hague) |
| | You Must Believe In Spring (Michel Legrand) |
Exploring Jazz And Classical Music, with Fred Haas, saxophone
Swing both ways with this intriguing program introducing audiences to what makes classical and jazz music tick. The noted saxophonist and jazz educator Fred Haas joins pianist Michael Arnowitt to present classical music, jazz, and some hybrid creations fusing the two styles of music. Jazz and classical music will be explored separately and then combined in various ways, by playing classical music in a jazz style, playing jazz music in a classical way (à la the MJQ - Modern Jazz Quartet), and also by presenting arrangements of their own which slide back and forth over the boundary between the two musical genres. By the end of the program, listeners will have a greater understanding of the differences between classical and jazz harmonies, rhythms, and forms.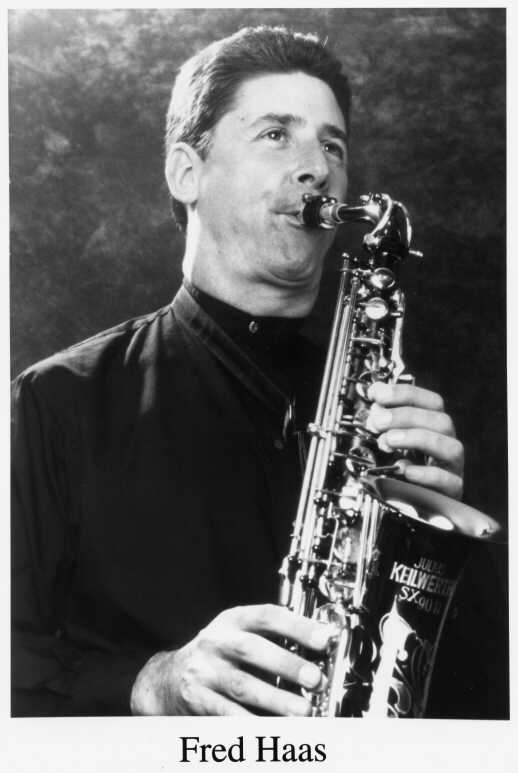 Fred Haas has been called by guitarist Pat Metheny "a totally world-class saxophone player." Haas has performed with Oscar Peterson, Ray Charles, Clark Terry, Sheila Jordan, Lena Horne, Don Cherry, Bob Brookmeyer, Dionne Warwick, and many others. Trumpet legend Clark Terry said, "You won't find a more capable jazz player and teacher than Fred Haas, and that's a fact!" Thomas Herrick, former publisher of Downbeat Magazine said, "Fred Haas is a consummate musician with a brilliant chordal sense and great execution ... he has a definite identifiable style of his own." And bassist Milt Hinton said, "Fred is a great musician and a joy to work with." Fred Haas founded Interplay Jazz Camp, an annual jazz summer school with some unique features, among them daily yoga and meditation sessions to help musicians relax and improvise better. During the regular school year, Fred Haas teaches at Dartmouth College in Hanover, New Hampshire.
Transcription Projects
These concerts focus on the artistry of a single jazz performer. Using recordings, Michael Arnowitt transcribes by ear the arrangements used by these famous jazz musicians, giving the audiences of today a unique opportunity to hear live the excitement of a particular type of jazz music of the past.
These tribute concerts re-create the written-out material used in these arrangements, such as the big band parts, the beginnings and endings of tunes, special transitions or episodes, and "background" counter-lines played by horns during another instrument's solo. Within the context of each arrangement, the soloists and the rhythm section accompanists are given latitude to improvise some details of their performances to provide spontaneity and added color.
Transcription Concert #1:

Ella Fitzgerald Night
Michael Arnowitt directs a tribute concert to the late jazz singer, featuring transcriptions he made of arrangements used by Ella on historic recordings she made between the years of 1939 and 1964.
Michael Arnowitt selected 25 songs to transcribe, with an ear to presenting some of the highest quality musical accomplishments of Ella's career, from her start in the 1930's with Chick Webb to her magnificent performances with big bands led by Count Basie, Billy May, Buddy Bregman, and Nelson Riddle, to her superb combo records where she collaborated with some of the best musicians of her era, such as pianist Oscar Peterson, trumpeter Louis Armstrong and guitarist Herbie Ellis. A special feature of the program is Ella's acrobatic, high-energy "scat" singing performances, highlighted on the tunes "Lady Be Good," "Them There Eyes," and "Jersey Bounce."
23 performers will be on stage for this concert: a 12-piece brass section, plus flute, vibraphone, cello, rhythm section quartet, and four vocalists sharing the role of Ella (including a male singer to help perform some of the vocal duets she did with Louis Armstrong). This concert debuted in April of 2003 to a sold-out audience delighted to experience a live re-creation of some of the most joyful, swinging jazz ever recorded.
Program --

Between The Devil And The Deep Blue Sea
Undecided
I Won't Dance (vocal duet)
Baby, Don't You Go 'Way Mad
This Year's Kisses
You're My Thrill
Night In Tunisia
The Midnight Sun
The Swingin' Shepherd Blues
'Round Midnight
Can't We Be Friends (vocal duet)
Cry Me A River
Clap Hands, Here Comes Charlie
Lady Be Good

-- intermission --

Them There Eyes (vocal trio)
Something's Gotta Give
Mr. Paganini
Lush Life (voice and piano solo)
This Could Be The Start Of Something Big
Ev'ry Time We Say Goodbye
Our Love Is Here To Stay
Too Young For The Blues
Spring Can Really Hang You Up The Most
My Reverie
Jersey Bounce
The Lady Is A Tramp (all four singers)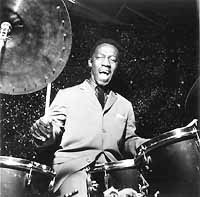 Transcription Concert #2:

Tribute to Art Blakey and the Jazz Messengers

The legendary drummer Art Blakey and his Jazz Messengers ensembles are honored in this special tribute concert, featuring a Vermont sextet of trumpet, sax, trombone, piano, bass, and drums. The Jazz Messengers groups were outstanding ambassadors for jazz, bringing Blakey's trademark high-energy, swinging, uptempo "hard bop" style to audiences around the world.

Art Blakey's bandmates over the decades reads like a Who's Who of jazz history: Clifford Brown, Donald Byrd, Lee Morgan, Freddie Hubbard, Wynton Marsalis, Wayne Shorter, Hank Mobley, Benny Golson, Horace Silver, Cedar Walton, Keith Jarrett, Curtis Fuller, and many others were all "graduates" of Blakey tours.

This concert program, featuring arrangements transcribed by Michael Arnowitt from classic recordings dating from the group's inception in 1953 to Art Blakey's death in 1990, offers 15 tunes chronicling different stages in Jazz Messengers history.

Personnel:
drums - Jeff Salisbury
trumpet - Dave Ellis
tenor saxophone - Alex Stewart
trombone - Dan Silverman
piano - Michael Arnowitt
bass - John Rivers

Sample Program -
Infra-Rae (Hank Mobley)
Hippy (Horace Silver)
The End Of A Love Affair (E.C. Redding)
It's You Or No One (Jule Styne)
Blues March (Benny Golson)
The Preacher (Horace Silver)
Ecaroh (Horace Silver)
Deciphering The Message (Hank Mobley)
A Night In Tunisia (Dizzy Gillespie)

-- intermission --

Mosaic (Cedar Walton)
One By One (Wayne Shorter)
When Love Is New (Cedar Walton)
Calling Miss Khadija (Lee Morgan)
Free For All (Wayne Shorter)
In A Sentimental Mood (Duke Ellington)
Fuller Love (Bobby Watson)

These arrangements were taken from the following recordings: Horace Silver and the Jazz Messengers (1954-55), The Jazz Messengers (1956), Moanin' (1958), A Night In Tunisia (Blue Note, 1960), Mosaic (1961), Free For All (1962), The Indestructible Art Blakey (1964), Keystone 3 (1982), Dr. Jekyle (1985), Feeling Good (1986).

Fun Art Blakey quotations and stories


"Dynamics, guys, dynamics ... When you get to the bridge of the tune I want y'all to play so soft that you can hear a rat pissin' on cotton."

"Art was very into dynamics. He would start your solo with brushes, then move to a flat cymbal for two choruses. Then he'd gradually build ... By the time he got to the big cymbal you'd better be peaking, and even if you thought you were going to take another chorus, he had a thing where he'd get to the top and press roll you in, he'd think you'd peaked out and he's back there just rockin'. And then he'd give a bombastic five-note drum riff and bam - that would be it! And the whole thing would come down, and you can keep playing if you want to - but you know you ain't going to get no more from him." - Bobby Watson

"Art says, 'who's got something?' and looks straight at me. So I pulled out two tunes, Hawkman and Time Will Tell. I gave him a drum part, and he looked at it, crumpled it up, threw it on the floor, and yelled 'Stomp it off!' So he played it and put his own Blakey signature drum style on it. Lesson number 5: you don't write Blakey drum parts."

"We'd come to the rehearsal and start just going through the charts ... and Art Blakey, he comes later. He comes in and sits behind the drums and just starts playing ... and all of a sudden, everything we played before comes into focus, becomes a masterpiece. He would never look at the music: he would always create his own part, and that would be phenomenal, the way he would create his own part. … by the way the melody goes, he would already know what his part should be, and it was always great." - Valery Ponomarev

"Did you guys get the message?"

"Our music is a collective product."

"Art had this speech he used to always go through. 'You guys aren't swinging! You sound like you're playing out of an exercise book! I want to hear some mistakes!'"

When Art wants to sit in, he grabs the ride cymbal stick and he rides while the drummer is still playing. Then the other player slides over and Art shifts in without missing a beat.

"If you know the truth, don't be afraid to say it. Truth is stranger than fiction."




Non-theme Jazz Combo Concerts

If you just want a straightforward good jazz performance and don't want the tunes to have to conform to a particular theme, no problem. Michael Arnowitt has a great deal of experience in presenting to the general public jazz concerts, performing as a solo pianist or in small groups ranging from two to five musicians. These programs always present a pleasing mix of tunes past and present, from jazz standards to songs of more recent vintage, including some of Michael Arnowitt's own original compositions.

These performances feature improvisations on tunes from Michael Arnowitt's favorite composers:

Jerome Kern, Cole Porter, George Gershwin, John Coltrane, Bill Evans, Miles Davis, Charles Mingus, Wayne Shorter, Cedar Walton, Herbie Hancock, Dave Holland, Billy Childs, and Brad Mehldau.

Sample personnel:
ImproVisions Jazz Quartet

Dan Silverman, trombone
Michael Arnowitt, piano
Rob Morse, upright bass
Caleb Bronz, drums



A sample trio program recently performed in Connecticut:

Scarborough Faire (jazz arrangement of a traditional song)
Jazzmania (Billy Childs)
October's Muse (Michael Arnowitt)
Autumn Leaves (Joseph Kosma)
Searching (Michael Arnowitt)
Ginastera's Gaucho Groove (based on music from Alberto Ginastera's Piano Sonata no. 1, arr. by Michael Arnowitt)

-- intermission --

Suite from West Side Story (music by Leonard Bernstein, jazz arrangements by Michael Arnowitt)
A Boy Like That
Cool
Maria
Tonight
I Have A Love
Mambo/Rumble (piano solo)
Somewhere






Improvisation with the Spoken Word

These evenings combine words with Michael Arnowitt's solo piano improvisations. Solo piano is the most fluid and flexible of jazz instrumentations, allowing for the maximum dialogue and sensitivity between the speaker and the music. The interest in combining words and music improv began in jazz in the 1950's and never truly died. In recent decades the popularity of spoken word elements in hip-hop, rap, and performance art has made it a natural development for the jazz artists of today to once again produce new creations fusing jazz music with the spoken word.


Improvisation with the Spoken Word #1: Langston Hughes

Jammin' with Langston

Langston Hughes' writings were strongly influenced by his love of jazz and the blues, frequently adopting word and line patterns taken from musical rhythms and forms. Michael Arnowitt performs improvised music simultaneously with the speaking of the texts: the music he improvises is affected by the way the words are read, while the reader speaks and spaces the words differently each performance in reaction to the music heard in the air.

The program features a generous sampling of Langston Hughes poems, such as "Danse Africaine," "Drum," "The Weary Blues," "Madam and the Rent Man," "The Negro Speaks of Rivers," "Crossing," "I, Too," (from Words Like Freedom), "Mother to Son," "Trumpet Player," and several selections from his excellent Montage Of A Dream Deferred: Dream Boogie, Harlem, Children's Rhymes, Dream Boogie Variation, Jam Session, Easy Boogie, and Juke Box Love Song. In addition, the short story "Blue Evening" (featuring a musical party scene) from Hughes' collection "Simple Speaks His Mind," will be read, as well as some of Hughes' prose writings.




Improvisation with the Spoken Word #2: Sylvia Plath

In the early 1960's, the literary world was struck by the brilliance of the young poet Sylvia Plath and shocked by her suicide in 1963 at the age of 30. The poems she wrote at the end of her life, known for their powerful and personal imagery, are the subject of Michael Arnowitt's piano improvisations, performed in a style with elements of both jazz and contemporary classical music.

In the summer of 1962 Sylvia Plath's husband (the renowned English poet Ted Hughes) began an affair with another woman. It is likely that this event, which led to the couple's separation, combined with Plath's already accelerating development of a new poetic style to result in a prolific period from the autumn of 1962 to the end of her life in early 1963. In October 1962 alone she wrote 25 poems and by mid-November had fully completed her acknowledged masterpiece,"Ariel," a cycle of 40 poems in a new, much more intense poetic voice, which was published posthumously. Her "Collected Poems" was awarded the Pulitzer Prize.

This program presents piano improvisations based on both the famous Ariel poems and also several others written after Ariel in the closing months of her life (her last poems were written six days before her suicide). In this performance, the poems could either be read by a speaker, or more experimentally, the audience could read silently to themselves each individual poem during the exact moment when Michael Arnowitt performs his musical improvisation on that poem.

Sylvia Plath was born in Massachusetts and lived her final years in England. She committed suicide on February 11, 1963.
"And by the way, everything in life is writable about if you have the outgoing guts to do it, and the imagination to improvise. The worst enemy to creativity is self-doubt." -- Sylvia Plath
Improvisation with the Spoken Word #3: Live with David Budbill, poet
In this program Michael Arnowitt plays piano improvisations to the delightful poetry of David Budbill, whom Booklist Magazine called "one of the most readable American poets ever." Budbill, a native of Cleveland who has lived in Vermont for almost 45 years, was praised by the Sunday New York Times Book Review for his "good humor and gusto," traits that are magnified when he reads live with music.
A huge jazz fan himself, David Budbill is a veteran of combining poetry with music, having collaborated on numerous occasions with the great avant-garde bassist William Parker, whom the Village Voice called "the most consistently brilliant free jazz bassist of all time."
David Budbill will read his perceptive and humorous poems from his forthcoming "Tumbling Toward the End" and his newly published poetry volume "Happy Life" (2011). His "Moment to Moment: Poems of a Mountain Recluse" was chosen by Booklist as one of the ten best books of poetry for 1999. Budbill has had almost 50 poems aired on Garrison Keillor's syndicated show on National Public Radio, "The Writer's Almanac." David Budbill is best known for his award-winning play "Judevine," which has been performed in 22 states, including by the American Conservatory Theatre in San Francisco.
David Budbill's deep love of jazz, and his many years of experience both listening to jazz and collaborating in performance with jazz musicians, make him an ideal partner for Michael Arnowitt's imaginative word-painting improvisations as the duo explore themes of the seasons, birds, mountain and city life in this thoroughly enjoyable evening.