Information on Lecture-Demonstrations with Michael Arnowitt, pianist
Skip down page to descriptions of particular talks:
Stravinsky's "The Rite of Spring" and the Music of 1911
The Life and Music of George Gershwin
The Music of Poetry
Beethoven's Sketchbooks
The Artistry of Ella Fitzgerald
Frederic Chopin's 24 Preludes
The Evolution of Jazz, Part 1: 1900-1950
The Evolution of Jazz, Part 2: 1950 to the present
Special workshop (designed primarily for music students): Gershwin's "They Can't Take That Away From Me"



Testimonials from past sponsors


"You set a wonderful tone that combined humor and accessibility with joy and deep appreciation for the work you were explicating. Our students were excited about their ability to understand and participate in the music. We all enjoyed the experience."
-- Community College of Vermont

"The four-part series of lectures and performances by pianist Michael Arnowitt is one of the most delightful events ever sponsored by the Chandler Cultural Foundation ... Mr. Arnowitt engagingly sketches autobiographical material about the composers, placing them in historical perspective and recounting amusing and telling anecdotes ...
He offers insightful analysis of the music he is about to play, expertly demonstrated at the keyboard. Most important of all, Mr. Arnowitt is not afraid to let his enthusiasms show. There is no other reason to play or to listen to music except the love of it, and Mr. Arnowitt's love of, and delight in, his music is contagious...
This is community education at its very best."
-- The White River Valley Herald

"Michael is a real gem -- he is a natural educator, relaxed, informative and never boring. His comments bring real insight to the work, and the audience was very appreciative."
-- Onion River Arts Council

"I heard from many attendees that their appreciation of the Ives Sonata was greatly enhanced by your introduction and the readings. I was proud that the library could bring a performer of your caliber to the community."
-- Scarborough Public Library

"All were struck by the way you broke down the barrier between performer and audience; you created an inviting, congenial atmosphere on stage ... many, many thanks for your extraordinary concert."
-- Middlebury College

"Thank you for the excellent lecture/demonstration ... it was our intent to put a classical pianist in front of the student body at Madison High School. The musical selections used, including Darius Milhaud's La Creation du Monde were exactly what we had hoped to expose our students to...
The quality of your performance and presentation were appreciated by all. Our special guest that day, William Cleveland, site evaluator for the National Foundation for the Arts, was very complimentary about the program and your selections performed for the students."
-- Wesserunsett Arts Council

Michael Arnowitt's lively performance/lectures are modelled on the format popularized by Leonard Bernstein, in which illuminating spoken commentary is augmented and clarified by demonstrations of details on the piano. Complete performances of certain pieces discussed are also sprinkled throughout the presentation to increase variety.

Michael has generally found the best approach is to take a small fragment of a piece of music and explore it in great detail. He offers insights regarding the music, the composers' lives, and the social and historical context of the world at the time these works of art were created. When Michael does a lecture-demonstration in conjunction with a full-length public concert, he also reveals intriguing connections between the various pieces of music on the program.

All lecture-demonstrations are suitable for the general public; no prior knowledge of music theory is required, as Michael has over the years come up with ways to explain even rather advanced musical ideas without using complicated terminology. At the same time, he has also worked hard to ensure that those with a fair background in music will go away having learned something new. Michael's presentations always reflect his current discoveries about the music he is studying, so his talks are always fresh and original.


Current Offerings - Lecture-Demonstrations
Stravinsky's The Rite of Spring and the Music of 1911
The music Igor Stravinsky wrote in 1911 for his ballet "The Rite of Spring" is generally considered to be the most influential composition of the entire twentieth century. In this special lecture-demonstration, Michael Arnowitt explores some of the fascinating creative details of Stravinsky's landmark work of genius, along with piano pieces all written in the year 1911 by Maurice Ravel, Arnold Schoenberg, Bela Bartok, and Sergei Rachmaninov.
Michael Arnowitt's favorite period of music and world history, 1911 was a crossroads time between the old and the new. With the Romantic era in its twilight years, fresh and original music was emerging everywhere. Much of this music reflected the turbulence of the times, as empires and aristocracies fell from power, public unrest grew from the burgeoning women's and workers' movements demanding social change, and important new technologies were born such as the car, the airplane, and electricity. This turmoil and ferment spilled over into the arts world, and many important pieces of music of the age received a scandalous reaction at their premiere. Pianist Michael Arnowitt will perform and discuss great music he has selected from 1911, bringing to life this vibrant and extraordinary time.
More information on the Stravinsky talk, including testimonials
The Life and Music of George Gershwin
featuring Rhapsody in Blue and An American In Paris; click here to read description on separate page
The Music of Poetry
click here to read description on separate page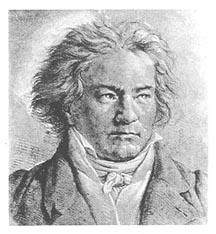 Beethoven's Sketchbooks
Pianist Michael Arnowitt takes a close look at Beethoven's creative process through an exploration of Beethoven's sketchbooks. As Beethoven would often go through a dozen different versions of a passage before settling on the "right" one (the one that seems so familiar to us today), these sketches offer a fascinating look into Beethoven's transformative genius – how he took a simple, humble fragment that anybody could have written and ultimately molded it to form a final work of art both meaningful and moving. Michael Arnowitt in his talk will demonstrate and compare the original sketches with the final version of excerpts from the first and last movements of Beethoven's famous "Tempest" piano sonata.
The Artistry of Ella Fitzgerald
Ella Fitzgerald, Michael Arnowitt's favorite jazz vocalist, is profiled in this talk featuring classic recordings Ella made from her debut on the music scene in the 1930's to her prime in the 1950's and 60's. One of the most talented singers of all time, Ella Fitzgerald presented a warm, rich tone on romantic slow ballads, while up-tempo numbers inspired her to daredevil leaps and an exciting, almost athletic virtuosity. Her creativity with "scat" singing produced melodic lines as inventive as the top horn players of her day, while her approach to "swing" rhythm is universally acknowledged as the model for that indispensible jazz element. Michael Arnowitt takes a detailed look at her superlative recordings of The Midnight Sun, You're My Thrill, Between The Devil And The Deep Blue Sea, Something's Gotta Give, Mr. Paganini., and Lady Be Good.
Frederic Chopin's 24 Preludes
Chopin's 24 Preludes is a comprehensive collection of quintessential Romantic miniatures, one in every major and minor key. The music spans the full range of human experience and emotions, at turns joyful, fleeting, energetic, eerie, vulnerable, melancholy, passionate, and humorous. No matter what the mood, Chopin offers music of great beauty, and the entire set of 24 preludes gives us a panoramic view of a unique, romantic and evocative world unmistakably Chopin's.
This set of preludes contains some of the finest and most original compositions Chopin wrote in his entire life. The short length (one to two pages) of each individual prelude makes them perfect for a lecture-demonstration talk. As several of the 24 preludes are famous pieces frequently learned by beginning and intermediate piano students, hearing this music explained may have special significance to many members of the audience.
The Evolution of Jazz, Part 1: 1900-1950
The Evolution of Jazz, Part II: 1950 to the present
From its origins as an outgrowth of ragtime and blues to the present day, jazz has enchanted listeners of all ages around the world. Michael Arnowitt will explore the fine points of selected great jazz performances of the past by musicians such as Louis Armstrong, Duke Ellington, Charlie Parker, Ella Fitzgerald, Miles Davis, and some of the most creative musicians of recent decades. In addition to listening to jazz recordings, Michael Arnowitt will also perform improvisations on some of the 20th century's best jazz tunes.
Examples selected for these two talks:
| | |
| --- | --- |
| Part 1: up to 1950 | Part 2: 1950 to the present |
| Scott Joplin: Maple Leaf Rag | Charles Mingus - Better Git It In Your Soul |
| King Oliver's Creole Jazz Band - Chimes Blues | Miles Davis - Solea |
| Louis Armstrong & Oscar Peterson - Moon Song | John Coltrane - opening of A Love Supreme |
| Ella Fitzgerald - Mr. Paganini | Ornette Coleman Quartet - Civilization Day |
| Ma Rainey and Her Georgia Band - Stormy Sea Blues | Albert Ayler - Ghosts; Universal Indians |
| Louis Armstrong - West End Blues | Herbie Hancock - Maiden Voyage |
| Cole Porter - I Concentrate On You | John McLaughlin - Song For My Mother; |
| Glenn Miller Orchestra - Sliphorn Jive | Follow Your Heart |
| Duke Ellington Orchestra - Mood Indigo | Weather Report with Jaco Pastorius - Havona |
| Django Reinhardt & Stephane Grappelli - Lady Be Good | Bobby McFerrin - medley: Donna Lee - |
| Art Tatum Trio - I Know That You Know | Big Top - We're In The Money |
| Billie Holiday - All Of Me | Peter Apfelbaum - The Ankh |
| Charlie Parker - KoKo | Billy Childs - Lover Man |
| Dizzy Gillespie - Manteca | |
| Bud Powell - Crazeology | |
Composer-specific Talks from previous years
1. Beethoven
What makes Beethoven's music so powerful and so universally admired? Michael Arnowitt will examine and perform "Fur Elise," the opening of the Fifth Symphony and the Moonlight Sonata, and perform the complete Sonata in E-flat major, op. 31 no. 3.
2. Mozart
Mozart has been deemed the classic example of a genius. The presentation begins with some music Mozart composed at age 5, and continues with a late piano sonata (K. 570), his set of variations on "Twinkle, Twinkle," and Michael Arnowitt's own arrangement of the finale to Mozart's "Jupiter" Symphony.
3. Copland
Michael Arnowitt will perform and comment on Copland's "Four Piano Blues," "El Salon Mexico," and "Piano Variations," revealing the many phases of this important American composer's life.
4. Charles Ives' Concord Sonata
The four movements of Ives' "Sonata no. 2: Concord, Massachusetts, 1840-1860" are each a musical portrait of a famous writer who lived in Concord: Ralph Waldo Emerson, Nathaniel Hawthorne, Louisa May Alcott, and Henry David Thoreau. Michael Arnowitt discusses various aspects of Charles Ives' life and plays portions of the sonata interspersed with literary readings from the four authors' essays, short stories, and novels. These excerpts are chosen based on writings left by Ives indicating which particular pieces of literature influenced him in the composing of the sonata.
Special note
Lecture-demonstrations are generally available for most concert programs described anywhere on this web-site. Please feel free to inquire about lecture-demonstration availability for a particular program that interests you.
For some of these lecture-demonstrations, a unit capable of playing CDs is needed.
Back to Home Page